Welcome to NWVCL 2014-2015 women's college club season!
NWVCL now serves over 50 teams from ten different northeastern states in two divisions. We have teams from MA, CT, RI, VT, NH, NY, NJ, DE, PA, ME. NWVCL is dedicated to the growth of women's club volleyball so just contact us if our league is in your area and we will find a way for your new team to participate in club competition. If you are a new club team and are interested in joining the league, please contact the commissioner, Jung Park. We currently have 6 teams on the waiting list for this season.
Congratulations to Delaware-A and Delaware-B for winning back to back league championship!
2014 NWVCL Red & Blue Division Champions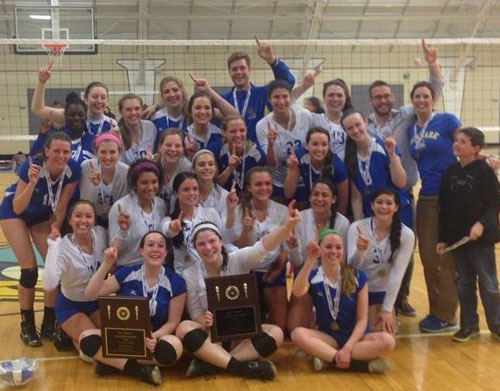 Congratulations to the UCONN HUSKIES, 2014 Champions of the NCVF Northeast Ranking Tournament!
2014 NCVF Northeast Ranking Tournament
hosted by NWVCL and Fairfield University
1st: UCONN
2nd: Northeastern
Complete tournament results.
2014 NCVF Ranking Tournament Champions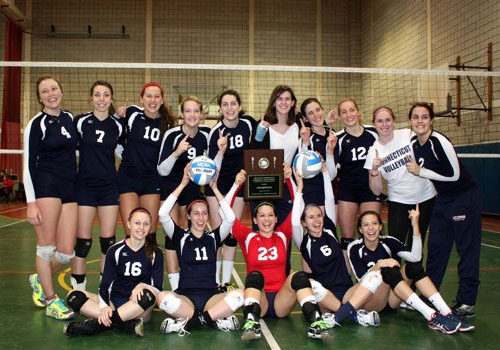 2013-2014 NWVCL Season:
Delaware-A: Champions Red Division
Rutgers-A: Runners-up Red Division
Cora Epps (S, Delaware-A) Most Outstanding Player
Delaware-B: Champions Blue Division
Fairfield: Runners-up Blue Division
Jamie Hoyle (MB, Delaware-B) Most Outstanding Player
Tour our website for more detailed info (league membership registration form, tournament registration form, etc.). If you have any questions or comments, feel free to contact Jung Park, Commissioner or Vu Hoang, webmaster.
National Collegiate Volleyball Federation: ncvfvolleyball.org
Your Online Source for Women's Collegiate Club Volleyball